Air shipping, quick to arrive, expensive to ride.
Air shipping is expensive in general, especially from overseas, but it may be the only way to save a desperate situation. For example, in your busiest selling season, you find yourself out of stock. You know it's is expensive, but you don't have much choice but to air ship your products, unless you want to take a large sales hit.
I'm Yuping Wang. I've been sourcing for 20 years. In this blog, I'll share 5 tips to help you save money when choosing air shipping.
These tips are all from practical experiences. So let's go.
Tip #1: Ship Them Loose
When you have several cartons to ship, you can either palletize your load or ship each carton loose.
Which way is cheaper?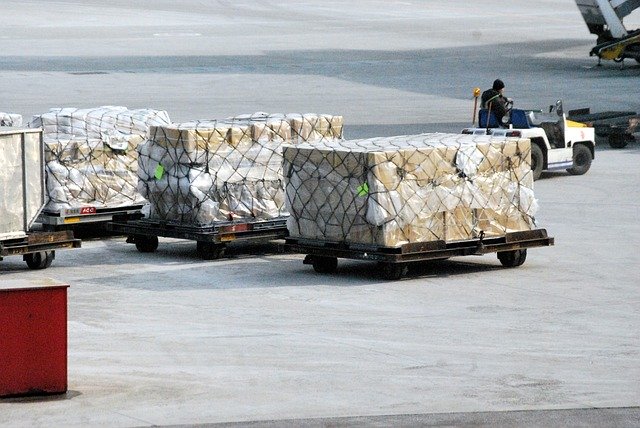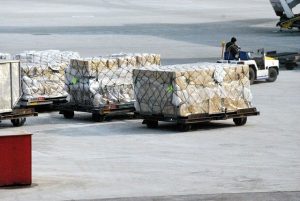 From my experience, shipping loose cartons cost less than shipping a palletized load. This makes sense if you think about it – loose cartons give airlines more flexibility to stage your shipment within the constraints of their cargo space.  They can fill smaller gaps rather than carve out one large area.
Also, a palletized load's weight and dimension are going to be bigger than the total weight and dimension of the cartons because of the added pallet.
Finally, you might have to pay your supplier for the cost of the pallet. Pallet cost ranges from $10-$30, depending on the type of the pallet your supplier uses.
All in all, you might see a $50-$100 difference.
Tip #2: Get 3 Quotes
To save on air shipping, you cannot rely on only one quote. 3 quotes will give you an idea of where you can save money.
The first quote – get it from your supplier. Ask your Chinese supplier to give you an air freight quote. Your supplier knows their freight forwarder. Just like what you are doing, your supplier has compared freight forwarders' costs
– just like you're doing right now. It should be straightforward to ask your supplier to get a quote for you.
The second quote – get it from the express carriers, like FedEx, DHL, or UPS. Why use express carriers? When your shipment weighs less than 200kg, an express carrier's all-inclusive, to-your-door quote can be very competitive, compared to a freight forwarder's quote.
The third quote – get it from your own freight forwarder. If you don't have a forwarder yet, you can research online or ask for recommendations from your peers (click here to learn more about finding the best freight forwarder).
Bottom line, you want three very different quotes to compare. Only with these kinds of quotes on hand can you find out where you'll save money.
Tip #3: Ask
When you get a quote from the freight forwarder, never take it AS-IS.
Ask questions.
Can the freight forwarder try a different airline? Can they try a different flight schedule? Sometimes, a delay of just a day or two can save a few hundred dollars.
This is just like buying yourself an airline ticket – you find the best deals when you shop around different airlines.
Your freight forwarder can shop different airlines for your air shipment, too, but they won't do this unless you ASK.
Tip #4: Timing
We all know that during holiday seasons such as Christmas or Chinese New Year, airline ticket prices go much higher than regular season prices.
When arranging air shipping, be aware of the holidays you're  running into – and not just the US holidays; your supplier's holidays need to be taken into consideration as well.
If your supplier is in China, you know they have many holidays – Chinese New Year, Chinese Mid-Autumn festivals, and so forth. If you ship during these holidays, your air shipping rate is going to run high.
If you can wait a few days, consider getting a quote to air after the holiday. It may save you a couple of hundred dollars.
Tip #5: Quantity
Fixed costs (e.g. pickup, delivery, documentation, clearance fees) make up a large portion of any air shipping quote.  No matter how much you ship, you'll need to pay those costs.
We're often shocked to find out how much money it costs to air ship even a small box of products, but don't panic.
If you're shipping a relatively small quantity of products, find out the incremental cost of shipping double or triple your quantity. This may make sense to do, since your fixed costs stay the same. With more units to ship, your per-unit air shipping cost will go down.
In this way, you can balance your total air shipping quantity and your total air shipping costs,  deriving a shipping quantity that makes the most sense for your margins.
Bonus Tip: Damage Prevention
There is no bigger waste than spending a lot of money on air shipping, only to receive a shipment of damaged products. The risk of product damage during air transportation is much higher than shipping through ocean.
This is especially critical if you're sending the air shipment directly to the Amazon warehouse, in which case, you don't even have an opportunity to receive and inspect your own products.
Your customers will be ones telling you that their product is damaged, and you don't want your customers to act as your quality assurance department.
When choosing air shipping, it's always wise to instruct your supplier to double and triple the protection on your product packaging. A little extra cushion and shrink wrap can save you a lot of money – and even brand damage.