Sourcing Warrior's Courses Will Help You
Get The Best Price
Increase Your Profit
Accelerate Your Growth
To Fast-Track Your Business!
Our Exclusive Courses Combine Powerful Strategies, Pro Sourcing Tools And Step-By-Step Video Tutorials To Show You Exactly How To Source From Reliable Suppliers With More Profits.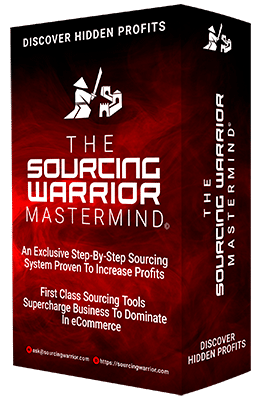 ---
ONE DAY SPECIAL - MEGA PACK OFFER (with 4 Bonuses!!)
An Exclusive Sourcing System Tested And Proven To Increase Profits!
Sourcing Warrior's Mastermind© Is A Complete Course. It Combines Powerful Strategies, Ready-Made Templates And Step-By-Step Video Tutorials To Help You Grow Your Business With A Reliable And Profitable Sourcing System.
 Make More Profits With An Easy Step-By-Step Sourcing System

 Get Reliable Suppliers And Save More On Costs

 Minimize Risks of Losing Money To The Bad Suppliers

 Save Time And Launch Product Faster

 Accelerate Growth With More Profits

But Wait, There Are More… Join The Mastermind© Today & Get 4 Exclusive Bonuses:
Bonus #1

: Your Invitation To The Elite FB Group

Bonus #2:

The Alibaba Sourcing Guide 2.0

Bonus #3:

The Ultimate Canton Fair Guide©

Bonus #4:

The Complete Vietnam Sourcing Case Study
$997 



$697
HURRY! This Mega Pack Offer Ends on

when the countdown reaches zero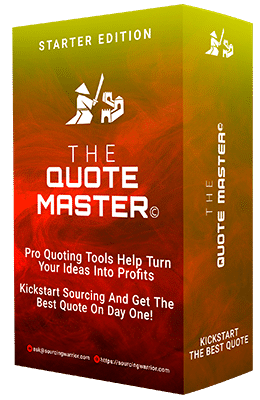 ---
Kickstart Sourcing, Get The Best Quote, Turn Your Ideas Into Profits
Sourcing Warrior's Quote Master© Is For Quoting ONLY (Quote Master© Is Part Of The Mastermind© Course). It Was Created To Empower You To Take Action And Kickstart Sourcing And Get The Best Quote.
Sourcing Warrior's Quote Master© is to help you get the best quote, the first time and every time.

It is harder and takes more time to negotiate the price down after you get the bad quote.

It takes me years to learn and develop these professional quote tools. They are made available for you in the Quote Master© and you only need One Day to master it.
Click Below To Get Your Exclusive Price! The Offer Is Limited In Time!
$197 



$97
What are the differences between the Quote Master© and the Mastermind© course?
1. The Quote Master© is a starter course to help you start the first sourcing step: Getting Quotes. Some people are intimated by sourcing but still want to see if they can turn the idea into a real business. If you want to give your idea a try, our amazing templates and video tutorials in the Quote Master© will give you the confidence you need to start sourcing.
2. The Mastermind© is the complete sourcing course. If you want to take full control of your sourcing and don't want to start something without knowing the complete picture first, the Mastermind© course is for you. The course gives you a step-by-step system and you will get tremendous support in the exclusive Facebook group. The support system is huge as we all face specific sourcing issues in dealing with the suppliers.
3. The Mastermind© includes Quote Master© material. The reason we made the Quote Master a starter course is to help you overcome the fear of getting started. But if you are serious about building a business, you need the Mastermind© course to approach sourcing systematically.
4. Only Mastermind© members are invited to the exclusive Elite Facebook group and get support for ongoing sourcing issues. Our goal is to help everyone to start sourcing the right way and help you to take full control of the money you spend in sourcing. It is your hard-earned, you deserve to have the most honest, quality course to guide you through the process. If you have any questions, feel free to email: ask@sourcingwarrior.com